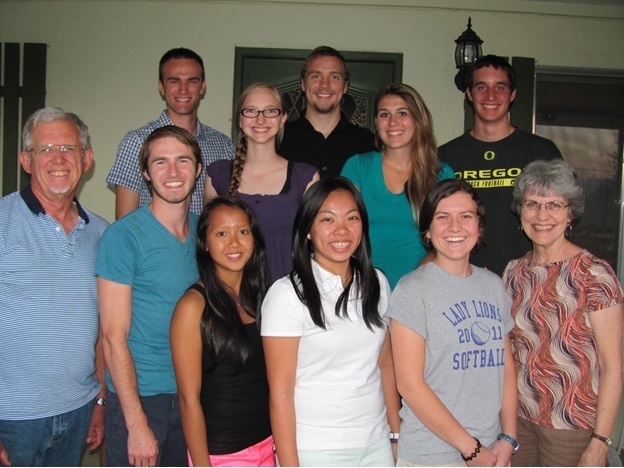 Gatehouse Ministries is an independent non-profit ministry established in 1999 to serve the needs of college-age Missionary Kids (MKs). It was established by David & Janet Kronbach, former missionaries with the Christian and Missionary Alliance. In 2008, Rev. Jim and Nancy Voss were appointed the new directors.  Jim has served as a pastor in the Christian and Missionary Alliance for over 40 years. Gatehouse is supported solely through donations from individuals and churches.
Mission Statement and Purpose
Our purpose is to create a nurturing environment of challenge, growth and potential for college-age MKs. The ministry of Gatehouse is fourfold – guardianship, access, teaching and entrance. The Old Testament gate served these functions in Biblical times. Gatehouse is a place of spiritual, emotional and physical guardianship at a vulnerable time in a young MK's life. It is also a place of access to the benefits of the Christian network in North America, as expressed through the ministry of CMA churches and districts across the nation. Much as the elders in the OT would sit in the gate and dispense wisdom, Gatehouse is a place of teaching. This includes practical skills useful for life in North America (vacuuming, painting, minor car repairs, banking issues, etc.) and leadership development. We meet and pray with each MK as they set goals several times a year in the areas of Spiritual life, Church life, School or Work life, Home life and Relationships. Lastly, Gatehouse is a place of entrance. Typically, MKs live at Gatehouse for 1-2 years as they transition into life in North America. As MKs enter Gatehouse they are in a transition. They are entering adulthood, leaving behind the home of their passport country and entering the culture of America.
Our Vision
Providing a home away from home, a place where college-age MKs can:
receive support, encouragement, and counsel as they transition into life in America
reduce college expenses
enjoy being part of a family who knows and understands them
benefit from local Christian network to help them find jobs, transportation, and career options help them embrace the advantages of being an MK and how their unique gifts can best serve God's Kingdom